One-time charges ding Enbridge in first quarter, leading to $1.43 billion loss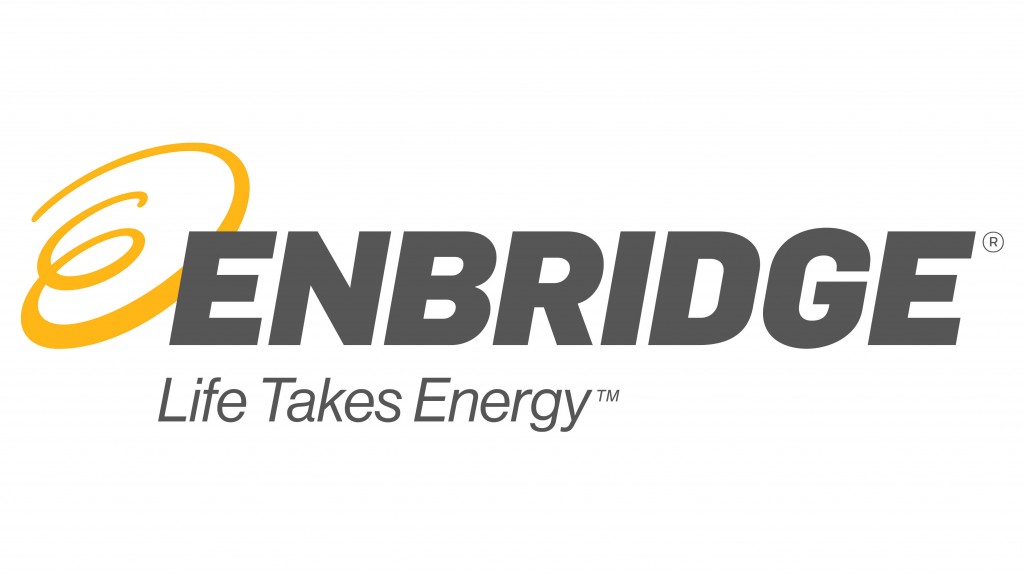 Enbridge Inc. has taken a more than $1.4 billion loss through the first quarter of 2020, and as a response to that and the ongoing challenges across the industry is intending to cut costs and reduce spending in the near term.
First Quarter 2020 Highlights
(all financial figures are unaudited and in Canadian dollars unless otherwise noted)
First quarter GAAP loss of $1,429 million or $0.71 loss per common share, compared to GAAP earnings of $1,891 million or $0.94 per common share in 2019, impacted by certain unusual and infrequent factors, including a non-cash impairment of the Company's investment in DCP Midstream of $1,736 million and non-cash unrealized derivative fair value losses of $1,956 million
Adjusted earnings were $1,668 million or $0.83 per common share for the first quarter of 2020, compared with $1,640 million or $0.81 per common share in 2019
Adjusted earnings before interest, income tax and depreciation and amortization (EBITDA) was $3,763 million, compared with $3,769 million in 2019
Cash Provided by Operating Activities was $2,809 million, compared with $2,176 million in 2019
Distributable Cash Flow (DCF) was $2,706 million, compared with $2,758 million in 2019
Reaffirmed financial guidance range for 2020 Distributable Cash Flow per Share of $4.50 to $4.80/share
Issued $4 billion of term debt at attractive rates, and added $3 billion of new committed credit facilities, increasing available liquidity to $14 billion
Texas Eastern Transmission, LP (Texas Eastern) received approval from the Federal Energy Regulatory Commission (FERC) of its uncontested rate case settlement with customers
Reducing operating costs by $300M, including reductions to senior management and Board of Directors' compensation to further bolster our business resiliency
Deferral of approximately $1 billion of planned 2020 secured growth capital spending to reflect refined execution schedules in light of COVID-19
Minnesota Public Utilities Commission (PUC) issued its official order confirming the re-certification of the Final Environmental Impact Statement (FEIS), Route Permit and the Certificate of Need for the Line 3 Replacement Project
The Pollution Control Agency (PCA) and the U.S. Army Corp of Engineers (USACE) completed their public consultation periods, further advancing Line 3 permitting
Filed a joint application for permits to the USACE and Michigan Department of Environment, Great Lakes and Energy (EGLE) to construct the Straits of Mackinac tunnel
Reached an agreement to sell 49% of our interest in three offshore Wind projects under development in France to the Canada Pension Plan Investment Board (CPP Investments) for initial proceeds expected to exceed $100 million, and pro-rata contributions for development and construction, going forward
Announced $0.3 billion of additional asset divestitures, including the Montana Alberta Tie Line (MATL) power transmission business and the Ozark gas pipeline assets
CEO COMMENT - Al Monaco, President and Chief Executive Officer
"Our responsibility to deliver energy safely and reliably is even more critical in these challenging times. Our pipeline networks assure energy security for North America and the vital fuel supplies that keep our economy and supply chains moving and support the production of equipment and delivery of services needed to fight COVID-19.
"Our teams responded to this unprecedented challenge, quickly and effectively. In January we initiated comprehensive business continuity measures to protect the health of our employees, contractors and the communities we operate in. Our people have once again shown their professionalism and dedication to their work in keeping our critical functions operating safely and reliably in this difficult time.
"While the full economic impact of COVID-19 and pace of global recovery is still uncertain, we're confident that Enbridge will persevere through the difficult conditions being faced by all of us today. That's because resiliency has always been a hallmark of how we manage our business; our strategically located assets, diversified cash flows, strong commercial underpinnings, and a strong balance sheet, allow us to withstand economic downturns and stay well-positioned for the future.
"In the first quarter, all our businesses performed well. Despite warmer than normal weather and lower contribution from energy services, our operating and financial results came in better than expected because of record volumes on the Liquids Mainline, strong utilization on our Texas Eastern gas transmission system, and great progress on synergy capture within our Gas Distribution and Storage business.
"We also advanced our strategic priorities this quarter. We sold $0.4 billion of assets, providing more financial flexibility and demonstrating our commitment to capital discipline. We put new rates into effect on Texas Eastern, reflecting the settlement we reached with customers. Finally, in Liquids Pipelines permitting continues to advance on the Line 3 Replacement project, a critical safety and integrity project.
"This solid performance underscores the strength and resiliency of our diversified asset portfolio which will serve us well in the face of the challenges emerging from the global response to the COVID-19 pandemic. However, there's no doubt that the impacts of the pandemic on society as a whole, and the energy industry, are unprecedented. The global economy has severely contracted and we're experiencing energy demand disruption on a scale that we haven't seen before. While Enbridge's business is resilient and our financial position is strong, we don't expect to be entirely immune to COVID-19 impacts in the near term.
"Our Liquids Mainline system has historically operated at or close to full capacity, generating highly predictable cashflows through commodity cycles, industry downturns and financial market disruptions; in fact, the Mainline has been apportioned for several years. However, the large and rapid decline in gasoline and jet fuel consumption, brought about by COVID-19, has resulted in sharp cuts to refinery runs and crude oil production. We've started to see some impacts on the Mainline: throughput was down approximately 400 thousand barrels per day in April, compared to average Q1 throughput of 2.84 million barrels per day. We expect similarly lower utilization rates will likely continue through the end of the second quarter.
"We currently believe that volumes will recover in the second half of the year as COVID-19 related travel restrictions are slowly lifted and mobility gradually returns to North America in the third and fourth quarter of this year. This view is supported by our belief that that the refineries operating in our core Mainline markets (i.e. the U.S. Midwest, Eastern Canada and the U.S. Gulf Coast) will be among the first to ramp back up given their scale, complexity and cost competitiveness.
"With the near-term reduction in Mainline volumes (Mainline accounts for 30% of EBITDA), it's important to remember that Enbridge's cash flows are well diversified across many businesses, geographies and have strong commercial structures. For instance, at this time, the financial performance of our Gas Transmission, Gas Distribution and Storage, and Renewable Power businesses is not expected to experience a meaningful impact from COVID. Our Gas Transmission business accounts for about 30% of 2020 expected EBITDA and is anchored by utility customers with firm reservation-based load which is expected to remain relatively stable.
"Revenues from our Gas Distribution utility and Power businesses account for approximately 17% of 2020 expected EBITDA and are underpinned by strong regulatory and contractual frameworks and predominately derived from a large and diversified residential customer base whose utilization rates are not expected to be impacted materially by the pandemic.
"While results from a few of our smaller businesses with direct commodity exposure (accounting for approximately 3% of EBITDA), such as Energy Services, DCP Midstream and our Aux Sable fractionation business, are likely to be weaker than budgeted, we also expect upside to our full year financial forecast from lower interest rates and a weaker Canadian dollar that improves translated results of our significant U.S. cash flows.
"We've initiated additional actions to further bolster our resiliency, while assuring that the safety and reliability of our operations remains our first priority. After a comprehensive review of our operating expenditures, we plan to reduce 2020 costs by approximately $300 million. These actions include company-wide compensation reductions, including for myself, the Board of Directors, and the rest of the management team. In addition, we've already increased our excess liquidity to $14 billion, which ensures we can fund our capital program well into 2021, even in the absence of further access to debt capital markets. Finally, we're deferring about $1 billion of 2020 secured growth capital spending to reflect refined execution schedules in light of COVID-19.
"Our full year financial performance will be impacted by the degree and pace of recovery of Mainline throughput. However, given the strength and stability of our broader business portfolio, and accounting for our current assessment of headwinds, tail winds and cost reduction actions, we continue to expect to generate DCF within our original guidance range of $4.50 to 4.80 per share.
"Finally, we remain focused on executing our $10 billion 3-year (2020 - 2022) secured growth capital program, of which approximately $5.5 billion remains to be spent (net of project level financing). Once in service, these low risk, highly capital efficient organic projects will drive solid growth over the near to medium term and advance our strategic priorities. Importantly, the actions we've taken to bolster our balance sheet and liquidity provides us with the continued financial flexibility to self-fund this growth."