Comprehensive line of hazardous duty clutches and brakes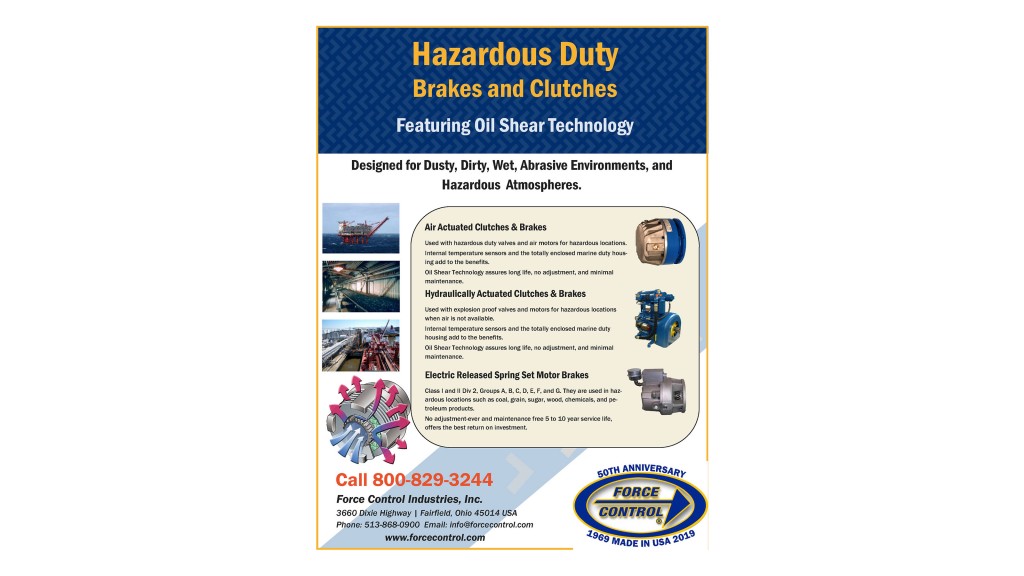 A new two-page, full colour brochure from Force Control Industries details their comprehensive lineup of clutches and brakes for hazardous duty applications.
Innovative oil shear design allows millions of cycles with no adjustment-ever or maintenance required. The totally enclosed heavy duty housings protect the brake even in wet, dusty or explosive environments. Options such as heaters and casting materials are available for low temperature applications including -40 degrees C.
Oil shear technology ensures a long service life with no adjustment and minimal maintenance. Air and hydraulically actuated clutches and brakes used with hazardous duty valves and air motors are ideal for hazardous locations, Class I, II and III. Electric release spring set motor brakes, Class I and II, Div 2, Groups A, B, C, D, E, F and G are used in hazardous locations such as coal, grain, sugar, wood, chemicals, and petroleum products. These proven products are ideal for coal mining and transporting, loading docks, ports, grain handling facilities, marine applications, and oil & gas drilling, and more.
Available in sizes from 1 HP to 2000 HP, and torque ratings up to 200,000 Lb. Ft (271,000 NM).
All Force Control products are manufactured in the USA, in their Fairfield, OH (suburban Cincinnati) factory. Copies of the new literature are available for download at https://www.forcecontrol.com/images/downloads/flyers/Hazardous-Duty-Flyer-040519.pdf.