Solid third quarter for Baker Hughes despite ongoing challenges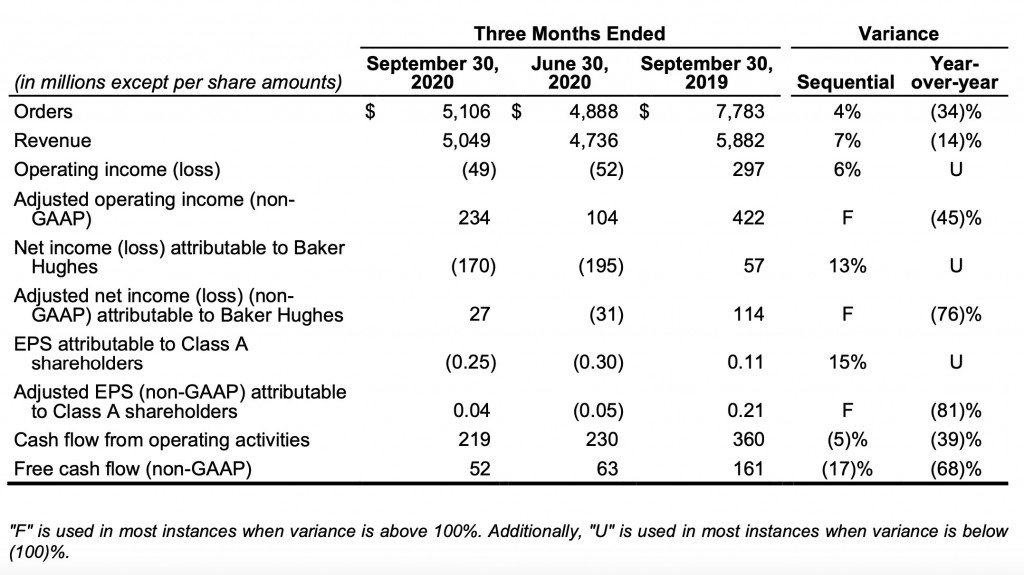 Baker Hughes Company has announced its results for the third quarter of 2020, showing solid results in the three month period despite continuing challenges from the global pandemic and a difficult oil market.
"Despite continued uncertainty in global oil and gas markets and the ongoing impact of the COVID-19 pandemic, we produced solid results in the third quarter of 2020. I am pleased with the continued execution on cost-out from our Oilfield Services (OFS) and Oilfield Equipment (OFE) teams, the commercial success and performance from Turbomachinery & Process Solutions (TPS) and Digital Solutions (DS), and our continued free cash flow generation during the quarter. I am proud of our employees and their continued commitment to delivering for our customers and shareholders," said Lorenzo Simonelli, Baker Hughes Chairman and Chief Executive Officer.
"After significant turmoil during the first half of the year, oil markets have somewhat stabilized. However, demand recovery is beginning to level off and significant excess capacity remains, which could create volatility in the future. The outlook for natural gas is slightly more optimistic as forward prices have improved with strong demand in Asia and lower expected future gas production in the U.S.
"Despite the uncertain macro environment, we are executing on the framework we laid out earlier this year. We are on track to hit our goals of right-sizing the business, generating free cash flow, and achieving $700 million in annualized cost savings by year end.
"As we move forward, we are intensely focused on improving the margin and return profile of Baker Hughes despite the near-term macro volatility, while at the same time executing on our long-term strategy to evolve our portfolio along with the energy landscape. Baker Hughes remains committed to leading the energy transition and becoming a key enabler to decarbonizing oil and gas and other industries," concluded Simonelli.
Quarter Highlights
Supporting our Customers
The TPS segment secured a major LNG order with longtime partner Qatar Petroleum to supply multiple main refrigerant compressors for Qatar Petroleum's North
Field East(NFE) project, executed by Qatargas. The total award is part of four LNG "mega trains," representing 33 million tons per annum (MTPA) of additional capacity. As part of Baker Hughes' commitment to support customers in decarbonizing their operations, the latest compression technology for the NFE project is expected to reduce emissions by ~5% versus previous technologies.
TPS also continued to innovate its FPSO technologies to support sustainable operations. The business was awarded a FPSO contract in Latin America for power generation, compression, and related equipment, including six LM2500+G4 gas turbines and two high pressure compressors for gas reinjection. The contract includes major capital spare parts and services.
The OFS segment delivered 83% of its global drilling services jobs remotely, compared to 72% in the second quarter. OFS remote operations have led to consistently better outcomes for customers at a record pace, and remote drilling increased most prominently in Asia Pacific (APAC) and the Middle East, and 100% of drilling jobs were completed using remote operations in Latin America and the Russia Caspian Region.
In the OFE segment, the Flexible Pipe Systems product line continues to gain traction in China, and was awarded a contract for high temperature subsea flexible jumpers and associated equipment as part of an Engineering, Procurement and Construction (EPC) project.
OFE also secured a major services contract for the supply of conductor casings for all the deep well drilling programs and associated logistics for a customer in the Middle East. The contract affirms OFE's status as the preferred supplier for premium connectors and casings.
The DS segment secured a major three-year frame agreement with Petrobras for multiple solutions from our Bently Nevada, Nexus Controls, and Panametrics product lines to enhance the customer's operations through risk mitigation and performance standardization and improvements. A broad range of condition monitoring sensors will be deployed including wireless, vibration and motor sensors, as well as plant control systems, and flare flow meters. The agreement is the largest Bently Nevada order ever for Latin America and includes the latest generation Orbit 60 system launched in 2019.
DS also secured several contracts to deliver advanced technologies for LNG, power generation, and pipeline infrastructure. Bently Nevada was awarded a five-year agreement with Sonatrach in Algeria, providing a range of vibration monitoring systems for multiple LNG and liquid petroleum gas plants. Panametrics secured a three-year contract with Snam for ultrasonic flow meters, helping to ensure 32,000+ km of pipelines in Italy remain stable and safe.
Executing on Priorities
Following several consecutive quarters securing large downstream chemicals contracts, the OFS Chemicals product line continued to win contracts in the third quarter including a five-year contract to provide process and fuel treatment products and services to HollyFrontier in North America. OFS will provide hydrocarbon treatment products and services at HollyFrontier's four U.S. refineries.
OFS also continued to focus on its differentiated portfolio with another consecutive quarter securing multi-year contracts for drilling services, completions, and artificial lift. In Guyana, OFS secured a five-year contract for drilling services, drill bits, and drilling and completion fluids. The Artificial Lift product line was awarded a contract for equipment and services in offshore Qatar, displacing a major competitor.
TPS achieved important execution milestones for LNG projects in the third quarter. In September, TPS completed the successful mechanical and performance tests for one of its largest size expander-compressors for Novatek's Arctic LNG 2 project. TPS also completed the first phase of the Calcasieu Pass LNG project with Venture Global, shipping the first two equipment modules from Baker Hughes' facility in Italy to the U.S.
DS continued to drive growth across industrial end markets, including aerospace and automotive. Bently Nevada achieved its first order for the Orbit 60 system outside of the oil and gas sector, signing a contract with an iron ore mining customer in Australia. The Waygate Technologies product line launched a unique high energy CT scanner system and secured a large multi-year inspection service order with a space exploration customer. In China, DS won multiple orders for sensor and inspection technologies with electric vehicle and aerospace OEMs.
Leading with Innovation
Baker Hughes continued to drive advancements in leading technologies while supporting its strategy to lead in the energy transition. TPS successfully tested the world's first "hybrid" hydrogen turbine designed for a gas network with Snam, paving the way to implement adoption of hydrogen blended with natural gas in Snam's current transportation network infrastructure. The test used a NovaLT™12 gas turbine with a 10% blend of hydrogen with natural gas. Once installed, the turbine can compress and move hydrogen fuel blends through Snam's network of pipelines while using the same fuel to power itself, significantly contributing to the reduction of CO2 emissions in Italy.
OFS introduced the Lucida advanced rotary steerable service, which integrates hardware, software, automation, and remote connectivity to help customers drill faster and deliver more precise, higher-quality wells. The service fully complements OFS' automation and remote operations services. Lucida is designed to maximize directional drilling performance and well productivity by incorporating advanced electronics and near-bit sensors that enable drillers to more precisely guide bottomhole assemblies.
OFE launched the Terminator vessel-deployed subsea wellhead cutting system, using a first-of-its-kind mechanical wellhead removal method to reduce time, fuel consumption and safety risks . Terminator was successfully launched with Wintershall DEA in Norway, cutting a subsea wellhead from an abandoned exploration well in 360 meters of water in only 35 minutes, compared to five or six hours with alternative abrasive cutting methods. Terminator joins the Subsea Connect suite of technologies for OFE and OFS customers, and it is smaller and lighter than previous systems.
DS continued to gain traction with its innovative Flare.IQ technology, securing a five-year contract with a North American customer. A key technology in Baker Hughes' energy transition portfolio, Flare.IQ helps operators manage their flare assets remotely and can also reduce methane emissions, ensure high-efficiency flare combustion, and reduce steam usage in flare systems using advanced sensors and analytics.
The BakerHughesC3.ai joint venture alliance secured a contract with a customer in the North Sea for BHC3 Reliability. BHC3 Reliability is a comprehensive software solution that provides reliability engineers, process engineers, and maintenance managers with AI-enabled insights to address process and equipment performance risks. The application delivers value through increased revenue from recovered production, reduced costs of unplanned downtime, extended equipment life, and improved safety in operations.