Grove crane helps with modernization at Polish oil refinery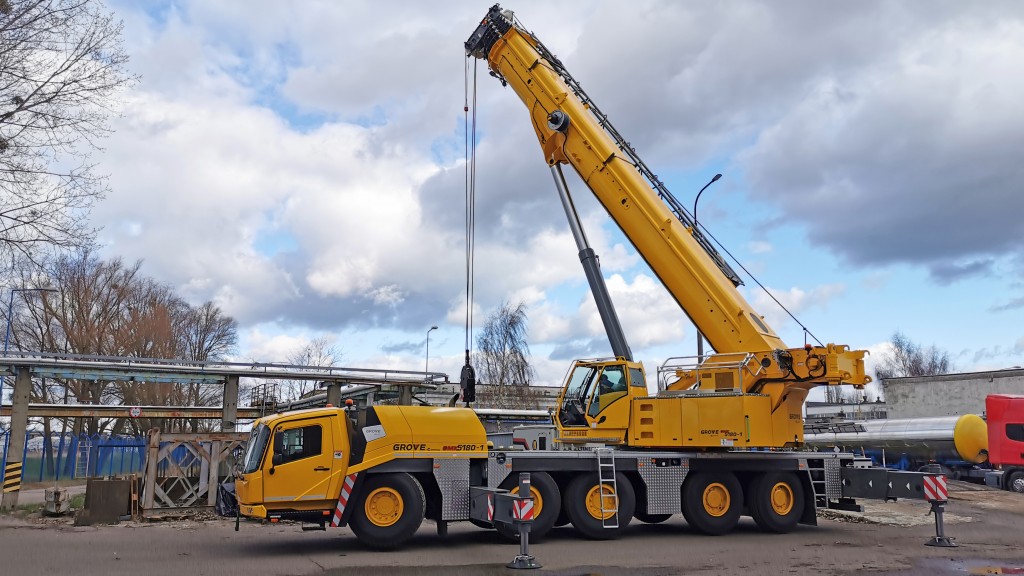 Gdańsk, Poland-based oil company LOTOS Serwis took delivery of a new Grove GMK5180-1 all-terrain crane to help carry out maintenance, repairs and diagnostic operations as part of the modernization and renovation efforts at one of its refineries.
LOTOS Serwis chose the GMK5180-1 for its combination of strong lifting capabilities and compact size — an important consideration given the limited space at the refinery. The GMK5180-1 has a nominal load capacity of 180 t, 64 m of boom and a total tip height of 101 m. It is the largest crane working on site.
The company is making full use of the crane's MAXbase system, which enables a range of outrigger configurations with asymmetric positioning to help the crane fit on the constricted job site. Without MAXbase, all outriggers must be extended the same distance, which is problematic on constricted jobsites where obstacles may be in the way. MAXbase, therefore, improves load charts and allows crane operators to make better use of its full capacity on tight jobsites.
The GMK5180-1 is also equipped with a set of hook blocks and a wear-resistant VIAB turbo retarder clutch that works with the Mercedes-Benz transmission to ensure smooth starting and braking, and 30% lower diesel fuel consumption for efficient and cost-effective operations.
"The LOTOS Group refinery is currently undergoing renovation and modernization work carried out by Polish companies. Thanks to this, we modernize the plant and support local enterprises," said Paweł Jan Majewski, LOTOS Group's chairman of the board. "The new crane fits perfectly on site, enabling us to complete all the tasks we need to."
Outstanding service support
LOTOS Serwis purchased the GMK5180-1 from Polish dealer Zeppelin Polska, which will support the crane's service and maintenance requirements, as well as provide extensive training for crane operators to help them get the most out of the machine.
"The combination of Grove brand quality and our support is the reason why we were selected as the supplier of the GMK5180-1 crane and we are fully ready to provide the best service," said Marcin Mazurkiewicz, Grove sales director at Zeppelin Poland. "We would like to thank LOTOS Serwis for the trust they have placed in us."
LOTOS Group is a leading Polish producer of unleaded gasoline, diesel, fuel oils, aviation fuels, lubricants, bitumen and waxes. LOTOS Serwis "Service" was established in 2003 to carry out maintenance, equipment installation, repairs, diagnostics and measurements at the group's refineries. The company's mission is to provide the highest standards of technical services.
Visit the Manitowoc website to learn more about the Grove GMK5180-1 all-terrain crane.