CDE solution for frac sand producer enables fast return on investment
Specialist sands wash plant for La Chola installed in just six days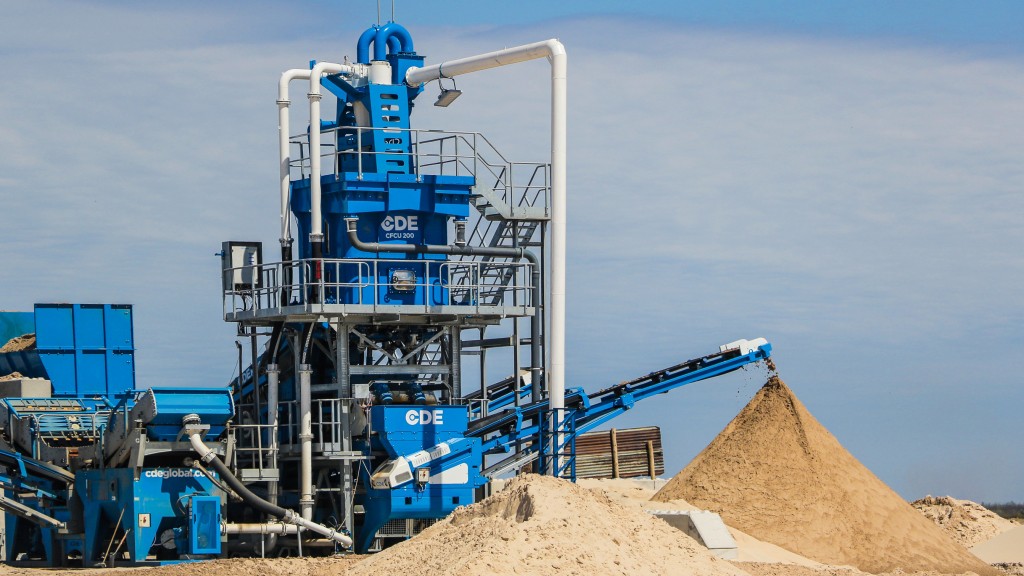 La Chola has been producing sand and aggregates since 1994 in the Pampa Soler, Concordia province of Entre Rios in Argentina. A family-run company, it is divided into two businesses with La Chola II established to focus on the extraction of sand for hydraulic fracking.
For many years, La Chola was a leading producer of high-quality sand and aggregates but, in 2016, with the support of wet processing experts CDE, its management team identified opportunity to diversify and explore new opportunities in the frac sand market.
In recent years, Argentina has received global attention for its shale plays, including most recently the Vaca Muerta basin, located in the Neuquén province.
The Vaca Muerta oil and gas fields in northern Patagonia are home to the fourth-largest shale oil and second-largest shale gas reserves in the world. Despite a slump in output throughout 2020, as a result of the Coronavirus pandemic, oil output is now on the rise.
Reports from the Vaca Muerta formation shows output has recovered to pre-pandemic levels, reaching a record high of 124,000 barrels per day (bpd) in December and exceeding the previous record of 123,000 bpd set in March last year.
Its significant development potential and that of other formations throughout Argentina has created opportunity for upstream processes and others in the supply chain, including frac sand producers, to maximise opportunities from exploration and production by energy companies.
Limited infrastructure and resources meant that La Chola required a highly efficient, modular, and small footprint solution that would help maximize product yield at the lowest possible operational cost. If the business was to capitalize on the growing demand it also needed a solution that could be deployed quickly.
With substantial experience of developing customized frac sand plants in North America, CDE was appointed to deliver a cutting-edge wet processing solution.
CDE's local partner Gastón Caillet-Bois from CPI Ventas said a unique co-creation approach was adopted for the project.
"Every project is unique and has its own set of requirements and considerations, from feed material to the geography of the site where a plant is to be commissioned. Using CDE's co-creation approach, we worked in collaboration with the team at La Chola to design a plant optimized to deliver on their aims and objectives."
To create the best-customized solution for La Chola's sand geology, CDE worked closed with La Chola to test sand from various areas in its labs in Northern Ireland.
"These sand samples were analysed at our lab facility in Northern Ireland where the material was also tested in a pilot plant. The results of these tests helped us to better understand the makeup of the material to be processed in order to design and engineer an efficient solution."
A customized solution incorporating CDE's FracLine™ with integrated M2500™, Infinity Screen™ technology and Counter Flow Classification Unit (CFCU) was identified as the most efficient system to meet La Chola's demands and ensure that end product met the specifications of Argentina's fast-developing shale industry.
CDE's FracLine technology features variable speed drives for controlled feeding, overburden removal, material classification, dewatering and stockpiling one a single, modular chassis.
The FracLine range benefits from enhanced flexibility, performance and maintenance accessibility to ensure that the plant is future-ready and can be adapted to respond to evolving market requirements. As it is pre-assembled, pre-wired and tested before dispatch, the FracLine range can be rapidly deployed and ready to begin processing material within days.
CFCU technology allows for effective separation of two materials of differing relative densities. With a variable cut (separation) point, it offers greater control over sand classification providing complete flexibility for the production of various end products and the removal of lightweight contaminants from the fine material fraction.
By incorporating CDE's patented Infinity Screen technology, which offers greater screening capability and reduces power consumption, La Chola benefits from optimal dewatering allowing for the production of high-quality frac sand that is market-ready straight from the belts.
Commenting on the commissioning process, Caillet-Bois said the plant was installed in a matter of days.
"CDE equipment is modular, so the installation is very quick and simple. It is also pre-wired and tested before being dispatched. As a result, we were able to install a complete turnkey solution for La Chola in just six days.
"After it had been installed, we worked with the team at La Chola for five further days to fine tune the plant and ensure it was operating and optimum utilization. It's now producing at 100% of its capacity and supplying sand yielding very good results for the company's oil company clients."
Today, the plant is producing 30-120 mesh frac sand, meeting La Chola's regulations for hydraulic frac sand.
Commenting on the future of the project, CDE Business Development Executive Gustavo Brasil says CDE will continue working closely with La Chola to optimize and maintain the plant.
"From here on we keep working together with the client. We pride ourselves on our after sales support, offering expert technical advice, proactive and preventative maintenance checks and the supply of spare parts."
For more information about CDE's specialist sands solutions, visit CDEGlobal.com.