Pembina Pipeline Corporation reports results for the first quarter 2021 and provides business update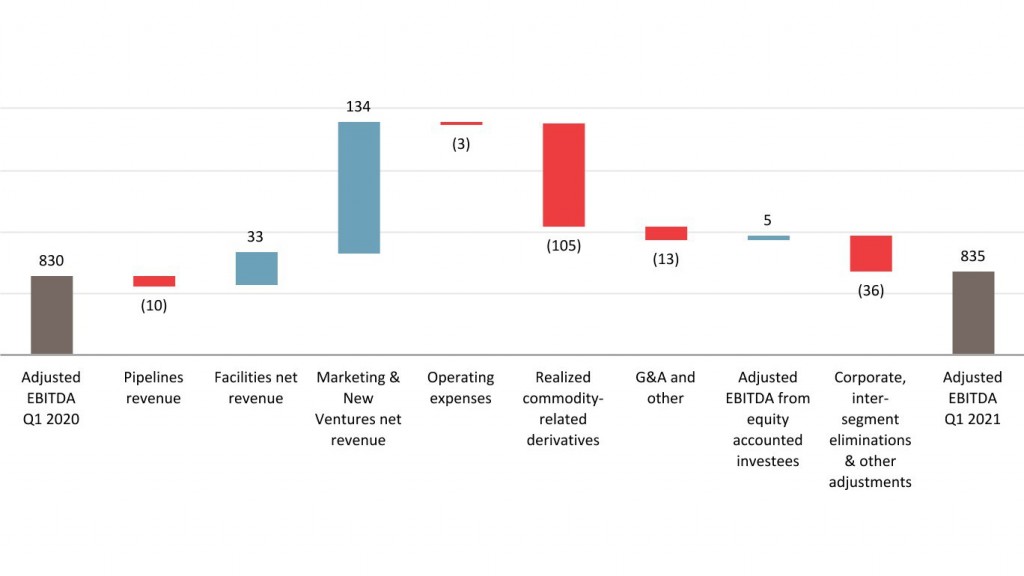 Pembina Pipeline Corporation has reported a strong start to 2021, with earnings of $320 million in the first quarter reflecting a business environment that is steadily improving.
The company reported that its first quarter benefits from higher natural gas liquids and crude oil prices and margins, driving improved results in the marketing business and increasing volumes on many of Pembina's systems when compared to 2020.

Prince Rupert Terminal ("PRT") entered service at the end of the quarter and as of April 22, two vessels had departed PRT, destined for international markets. In addition, Pembina has entered into a one-year agreement with a subsidiary of Mitsui & Co., Ltd. ("Mitsui") for the purchase of substantially all of the post-commissioning cargos shipped from the terminal.
Pembina also signed a long-term, 100 megawatt ("MW") power purchase agreement ("PPA") that supports development of the 130 MW Garden Plain Wind Project ("Garden Plain") in Alberta. The PPA provides cost-competitive renewable energy and will generate approximately 135,000 tonnes of carbon dioxide equivalent emission ("CO2e") offsets annually, or an estimated total of 1.8 million tonnes of CO2e emission offsets. The emissions reductions collectively available from the PPA and the Empress cogeneration facility represent approximately seven percent of Pembina's 2019 reported greenhouse gas emissions.

Pembina reported record first quarter adjusted EBITDA of $835 million, consistent with the same period in the prior year. The first quarter of 2021 was positively impacted by increased marketed NGL volumes and higher margins on NGL and crude oil sales, combined with new assets placed into service in Facilities and higher supply volumes at the Redwater Complex. These factors were largely offset by lower interruptible volumes on certain systems in Pipelines, an increase in realized losses on commodity-related derivatives, and higher general & administrative and other expenses largely driven by increased long-term incentives, offset by lower salaries and wages and lower acquisition related costs. The increase in long-term incentives was driven by an increasing share price in the first quarter of 2021 compared to a decreasing share price in the first quarter of 2020.
Pembina reported earnings in the first quarter of $320 million, consistent with the same period in the prior year. In addition to the factors positively impacting adjusted EBITDA, as noted above, earnings were positively impacted by a decrease in net finance costs due to lower foreign exchange losses as a result of hedge accounting adopted in the second quarter of 2020 and an increase in the value of the Canadian dollar relative to the U.S. dollar. Earnings were also positively impacted by a decrease in current tax expense as a result of lower taxable income and a reduction in the Alberta corporate tax rate. Earnings were negatively impacted by an unrealized loss on commodity-related derivative financial instruments in the first quarter of the current year, compared to a significant gain in the first quarter of the prior year, and a lower share of profit from Ruby.