TIRE PRESSURE CONTROL SYSTEM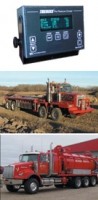 The TIREBOSS Tire Pressure Control system is an electronic device that allows truck operators the flexibility to optimize tire pressures from the truck cab while on the move.

Anyone operating heavy vehicles in soft ground can reap the benefits that a longer tire footprint provides. Increased mobility and traction, reduced road and site damage, extended tire life, and a smoother ride are all benefits whose effects are welcome across various applications.

Studies have demonstrated that the larger footprint created by conventional tires at reduced pressure provide a lower ground pressure than floater tires or conventional high pressure tires resulting in less soil compaction and less rutting. And, unlike with floater tires, vehicles equipped with TIREBOSS do not require special permits when operating on public roads. As a result of the longer footprint produced with the system, there is reduced impact on county roads. As well, normal road speeds can be observed rather than traveling at severely limited speeds as required when using floaters.