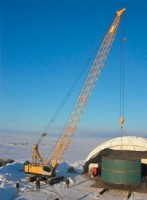 Crane & Rig Inc. sells and services premier products to the oilfield, forestry and mining, construction and utility industries. Our products include a full line of cranes, Shuttlelift Industrial Mobile Gantry and Carrydeck Cranes (Drott), Kobelco Crawler Cranes, Terex Cranes, Jabco Service Body, Folding and Wallboard Cranes, Cobra and Stellar service cranes. Other products include: Boss Air Compressors, Shields Magnets, LSI Load Systems, Massload, Dynalink weigh scales, Hydra-link weigh scales, North Pacific Crane Mats, Super Dolly Plastic Outrigger Pads, Safety Products, and Sondar Vehicle Back-up Guide Systems, Preco Radar Back-up guides.

Crane & Rig's service department specializes in maintenance and repair on all makes and models of lifting equipment, performing major and minor repairs, complete overhauls, fabricating, custom rig ups, component rebuilding and structural and mechanical certification. We are set up to travel anywhere in Canada.

Crane & Rig's parts department handles parts for Terex, American, Lorain, P&H, Stinger, Koehring, Demag, Shuttlelift, Drott, Jabco (Amco Veba) and Kobelco.