SOLAR POWERED CHEMICAL PUMP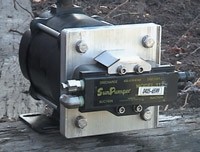 The innovative Sun Pumper solar powered chemical pump solves many of today's environmental, safety and production issues.

The Sun Pumper, was developed almost 15 years ago to provide a way of pumping chemicals, independently of the process, for remote areas with no available power and for low pressure wells with not enough pressure to operate a pneumatic chemical pump. It made sense to have a pumping system that could be easily and economically moved to different sites as well.

The environmental and safety concerns are addressed simply by the cessation of venting gas to the atmosphere, which pollutes the environment and puts people in harms way with sour and explosive gasses. Secondly, the simplicity of the working parts is such that the possibility of caustic and poisonous chemicals dripping through packing or seals of different types, is much more unlikely to happen.

The Sun Pumper does not require a heat source to keep it operating, and can keep operating throughout the winter months in extremely cold temperatures.