DATA LOGGER WITH USB PORTS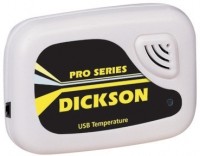 These Dickson Pro Series temperature and humidity data loggers have built-in USB ports for triple-speed data downloading.

They also feature LED alarms, one-second sampling rates, and accuracy up to ±0.5 degrees C making them the data loggers of choice for the most critical applications.

Users can choose between three compact models to match the needs of their application — TP125, SP125 and SP175.