MAXI-HEAT KEEPS WORKERS AND EQUIPMENT WARM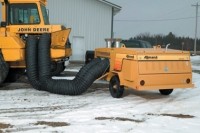 From warehouse to wilderness, the Allmand Maxi-Heat portable heater resolves problems associated with cold weather work conditions by providing clean, breathable, heated air at the job site. The unit efficiently warms air to help keep workers and equipment in top form. The Maxi Heat is also used to provide a warm environment curing concrete, painting bridges, drying rail cars, warehouse construction and other year-round applications.

The unit delivers high-volume, fume-free warmth as it draws in and heats outside air for the work environment. Burner units are enclosed and combustion gases are exhausted away from the machine while clean, heated air is delivered precisely where needed for a particular job.
Company info
Related products