AUTOMATIC CALIBRATION REMINDER SERVICE FOR NIST-CERTIFIED INSTRUMENTS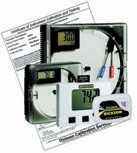 Petroleum processors seeking to meet the highest standards of temperature and humidity control by using NIST-certified instruments can now be assured that their chart recorders' and data loggers' calibrations are current through Dickson Company's automatic enrollment of NIST-certified instruments in the Dickson Calibration Club (http://www.dicksonweb.com/calibration/calibration_club.php).

Dickson Company, which sponsors the Calibration Club, offers a wide selection of temperature, humidity and pressure recorders and data loggers. Automatic enrollment ofNIST-certified instruments obtained from the Dickson Company in the Calibration Club was announced for 2007. Members of the Dickson Calibration Club are able to create an online database for all of their instruments and assets such that they receive an e-mail notification when instruments or assets are due for calibrations.

Unlike generic instruments that only state that calibrations are within specifications, Dickson NIST-certified temperature and humidity recorders and data loggers specify a particular unit's serial number along with the date of original calibration, the calibration reading, and the specific instrument used to calibrate the unit. The Dickson Calibration Club service is designed to help those with NIST-certified instruments ensure their instruments retain their original calibration specifications. NIST-certified instruments are often the preferred models for those with the highest quality standards.