NONDESTRUCTIVE TESTING INSTRUMENTS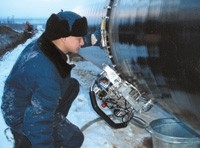 Olympus NDT will feature the PipeWIZARD – Automated Phased Array Ultrasonic Inspection of Pipeline Girth Welds. The R/D Tech PipeWIZ-ARD systems are used in numerous onshore and offshore applications, operating with no downtime, and performing hundreds of thousands of weld inspections and scans. PipeWIZARD operates flawlessly in hot and cold climates, and in humid, salty and dry conditions.

As well as, the PV-200 with OmniScan MX PA– Circumferential Weld Inspection System. This R/D Tech phased array system is qualified to inspect tubes with diameters ranging from 48 mm to 1524 mm in compliance with the ASME Boiler and Pressure Vessel Code. The PV-200 is ideal for inspection of pipeline repair and tie-ins. This automated system offers superior inspection speed and detection, and makes interpretation of indications significantly easier than radiography testing.