PIPELINE COATING FOR EASY FIELD APPLICATION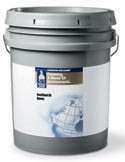 Fast Clad ER Epoxy Pipeline Coating provides improved edge retention and a faster cure time than conventional epoxies and allows pipeline coating repairs to be made quickly and easily, significantly minimizing downtime.

Fast Clad ER Epoxy is an ultra high-solids epoxy amine coating that presents significant advantages over other epoxy coatings in pipeline rehabilitation and repair, such as excellent cathodic disbond-ment resistance, outstanding adhesion properties, ultra high solids that comply with all VOC regulations and first-rate edge build which improves overall corrosion performance.

Ideal for petrochemical facilities such as oil refineries and chemical plants, this low-odour, equal parts mix ratio reduces waste, improves mixing accuracy and provides superior anti-corrosive protection essential for pipeline coating success. Designed for plural-component application equipment, Fast Clad ER Epoxy is recommended for use over prepared steel surfaces, suitable in any petrochemical facility.
Company info
8500 Leslie St Suite 220
Thornhill, ON
CA, L3T 7M8

Read more