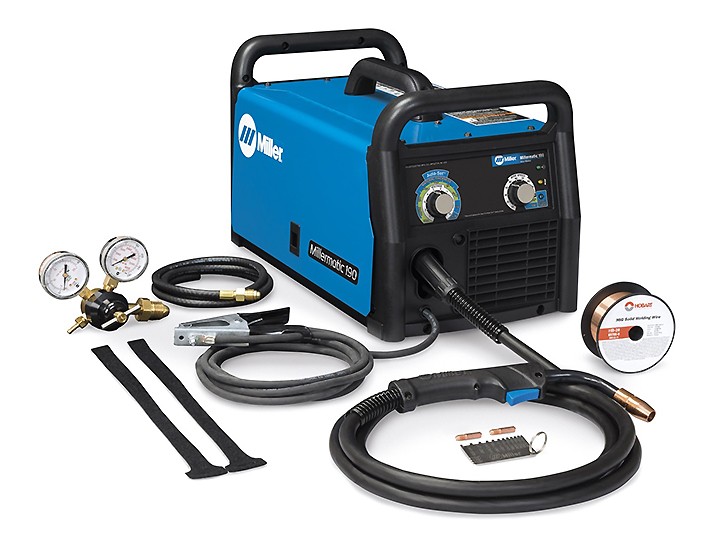 All-in-one wire welder that welds 24 gauge - 5/16 in. (0.8-7.9mm) mild steel. The simplest Millermatic to set-up and start welding.
Features & Benefits
Portable
Miller inverter technology reduces the weight of the machine to 35 lbs on top of the ergonomically friendly case design, making the machine easier than ever to move around your workspace.
Power
Uses 240V input power! Enough power to tackle any size job.
Auto-Set
A breakthrough control that automatically sets your welder to the proper parameters. Auto-Set offers all-in-one MIG minus the hassle of finding parameters. Simply set the wire diameter, set the material thickness, and start welding!
Fan-On-Demand
Fan only operates when needed reducing noise and power consumption.
Angled All Aluminum Drive System
Robust wire drive with Quick Select drive roll and calibrated tension knob creates consistent feeding and easy setup for up to 15-foot MIG guns.
Smooth-Start
This technology provides a smooth, spatter-free start. The best starting machine in its class! No more pop-gun starts or spatter to clean up.
Thermal Overload & 'Tip Saver' Short Circuit Protection
Shuts down the unit and activates the over-temperature light if the airflow is blocked or duty cycle is exceeded. Tip Saver shuts down output when the tip is shorted to the work extending tip life and protecting internal components from damage.
Auto Spool Gun Detect
Automatically detects when a MIG gun or spool gun is connected eliminating the need for a switch.