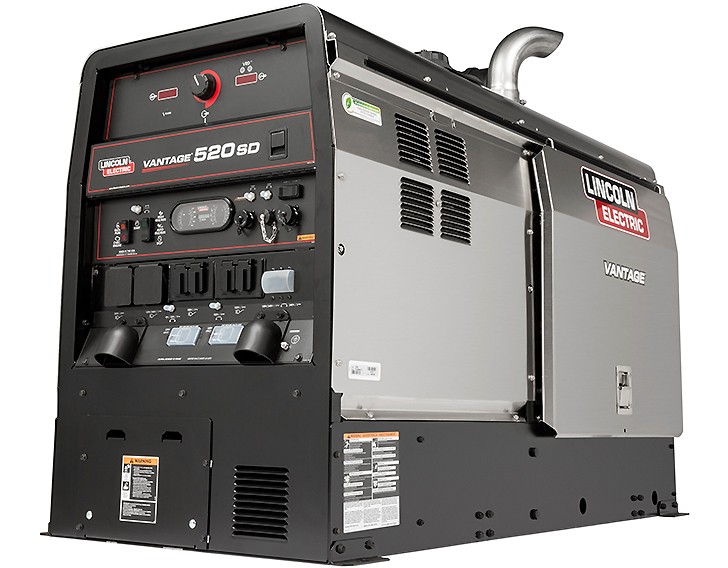 When the job calls for structural steel welding and other rugged outdoor work, you need an engine-driven welder that covers all your process needs – stick, MIG, TIG, flux-cored and gouging – and also meets the latest diesel fuel emissions standards. Upgraded for Tier 4 Final (T4F) compliance, the Vantage series has been re-engineered to deliver smoother arc characteristics and improved pipe welding capabilities. Select the Vantage 520 SD for 400A/36VDC 100% duty cycle welding performance and gouging with up to 5/16 inch (8 mm)carbons.
Features & Benefits
Optimal Arc Performance
Take control of the arc and maximize the quality of your welds. These Vantage models deliver the best arc in the industry with minimal spatter for stick or pipe welding.
Cleaner, More Reliable Engine
Equipped with a Tier 4 Final Deutz naturally aspirated diesel engine, these Vantage models deliver a 90% reduction is particulate and nitrous oxide emissions, making this the cleanest diesel power available.
Low Maintenance, Reliable Operations
The Vantage SD engine-driven welders contain less wiring and fewer connections than previous designs. The printed circuit boards are environmentally shielded using Lincoln Electric's engineered encapsulation and protective frame trays.
Specs
Key Specifications

| | |
| --- | --- |
| NET WEIGHT | 1382.000 (626.875 kg) |
| HP AND SPEED | 34.8 @ 1800 |
| TYPE OF ENGINE | Deutz D2.9L4 Naturally Aspirated Diesel Engine EPATier 4 Final Compliant |
| GENERATOR OUTPUT | Single Phase: 11,000 Watts 60 HZ Three Phase: 17,000 Watts 60 HZ |
| OUTPUT RANGE | 30-520 Amps CC/CV 20-250 Amps TIG |