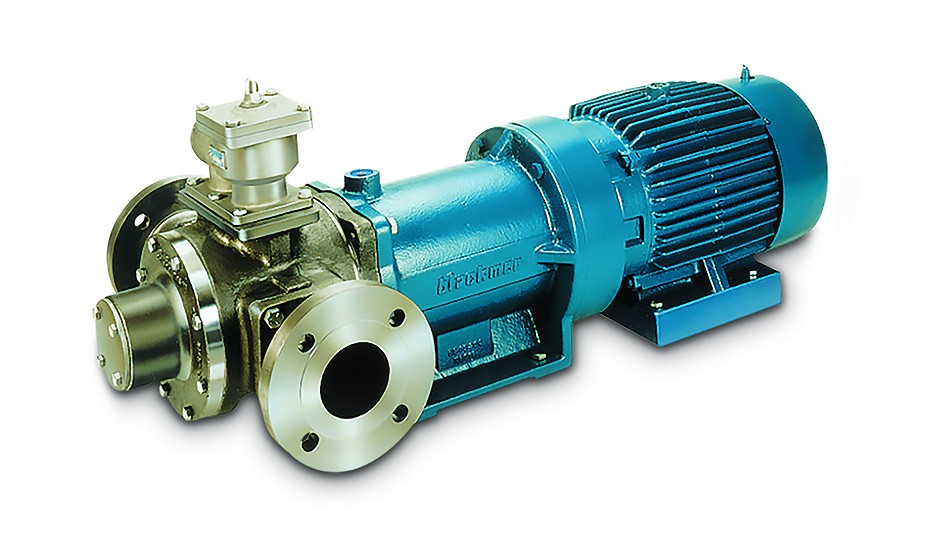 Blackmer has combined our proven sliding vane design with a seal-less magnetic coupling to meet the growing need for zero shaft leakage when handling expensive, hazardous or hard to seal fluids. Environmental concerns, workplace safety, EPA requirements, and local government agency regulations may may the "Best Available Control Technology" (BACT) for certain chemicals.
Features & Benefits
Long lasting
316 stainless steel construction with metallized carbon sleeve bearings and non-metallic vanes for longer life.
Design
Blackmer seal-less pumps are designed with self-lubricating carbon graphite sleeve bearings and no metal to metal contact. This special design allows dry running for priming and line stripping.
Positive flow
Blackmer seal-less pump models have a unique bearing and head design that allows a small quantity of pumpage to circulate through the containment can and bearing surfaces. This positive flow of fluid minimizes temperature rise for maximum bearing life.
Samarium-cobalt magnets
Blackmer seal-less pump models are equipped with samarium-cobalt magnets as standard construction. This rare earth material prevents permanent magnet degradation if adverse operating or "break-free" conditions occur.
Replaceable end discs
Replaceable end discs allow easy rebuilding of the pumping chamber to like-new condition without removing the pump from the piping.
Maintenance
Easy maintenance: vanes can be easily replaced without removing the pump from the piping system.
Specs
Key Specifications

| | |
| --- | --- |
| Model: SMVP15 | Flow Rate 52-64 L/min, Differential Pressure 8.6 bars |
| Model: SMVP30 | Flow Rate 117-142 L/min, Differential Pressure 8.6 bars |
| Model: SMVP50 | Flow Rate 207-251 L/min, Differential Pressure 8.6 bars |
| Model: SMVP100 | Flow Rate 344-416 L/min, Differential Pressure 8.6 bars |
| Model: SMVP100 | Flow Rate 544-813 L/min, Differential Pressure 8.6 bars |