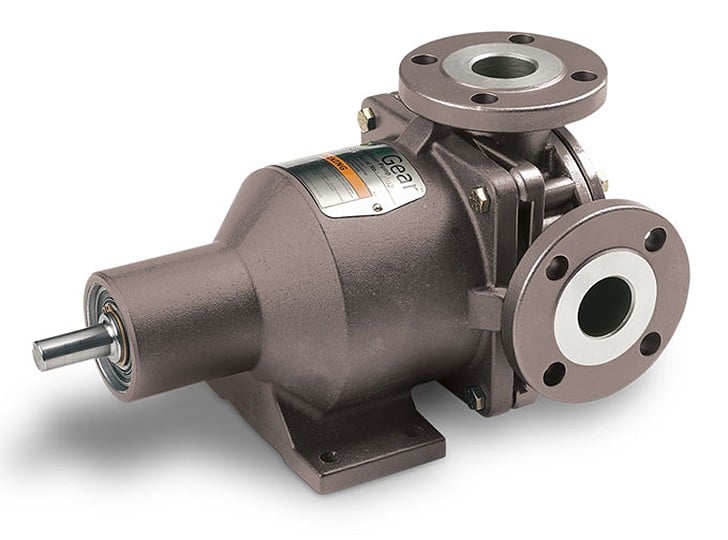 EnviroGear®, part of Dover Corporation's PSG®, is proud to offer this innovative, durable and environmentally friendly positive displacement gear pump. EnviroGear Internal Gear Pumps save you money by providing a low initial cost, high performance, and low maintenance costs. Our revolutionary seal-less design with patented between-the-bearing support system effectively eliminates leaks and mechanical wear, helping to increase personnel and environmental safety.
Features & Benefits
Interchangeable gear pumps
EnviroGear pumps are designed to be interchangeable with up to 95% of the internal gear pumps that are currently available in the market. That means no piping changes, no driver changes, no coupling changes, no flow-rate changes and no baseplate changes.
The EnviroGear Design
The patented EnviroGear design supports the rotor and idler gears at three crucial locations with an Eccentric Spindle that is supported in the head, the crescent location and the back of the containment canister.
DURABILITY
Large, long radial bushings support the entire length of the rotating element, which spreads out the hydraulic forces and allows the bushings to last longer.
EFFICIENCY
This single fluid-chamber design results in a much shorter, simpler flow path and allows the pump to easily handle fluids with high viscosities up to 50,000 cSt while increasing bearing life and cleanability.
Magnets
The EnviroGear uses magnets mounted directly to the rotor, eliminating the adapter plate, allowing for a single-fluid chamber.
Specs
Key Specifications

| | |
| --- | --- |
| Model: E1-2-CS | Max. 1800 RPM, 3.4 m3/hr Flow @ Max. Speed |
| Model: E1-4-CS | Max. 1800 RPM, 6.8 m3/hr Flow @ Max. Speed |
| Model: E1-24-DI or CS | Max. 780 RPM, 17 m3/hr Flow @ Max. Speed |
| Model: E1-32-DI or CS | Max. 780 RPM, 22.7 m3/hr Flow @ Max. Speed |
| model: E1-55-DI or CS | Max. 640 RPM, 30.7 m3/hr Flow @ Max. Speed |
| Model: E1-69-DI or CS | Max. 640 RPM, 38.6 m3/hr Flow @ Max. Speed |
| Model: E1-82-DI or CS | Max. 640 RPM, 45.4 m3/hr Flow @ Max. Speed |