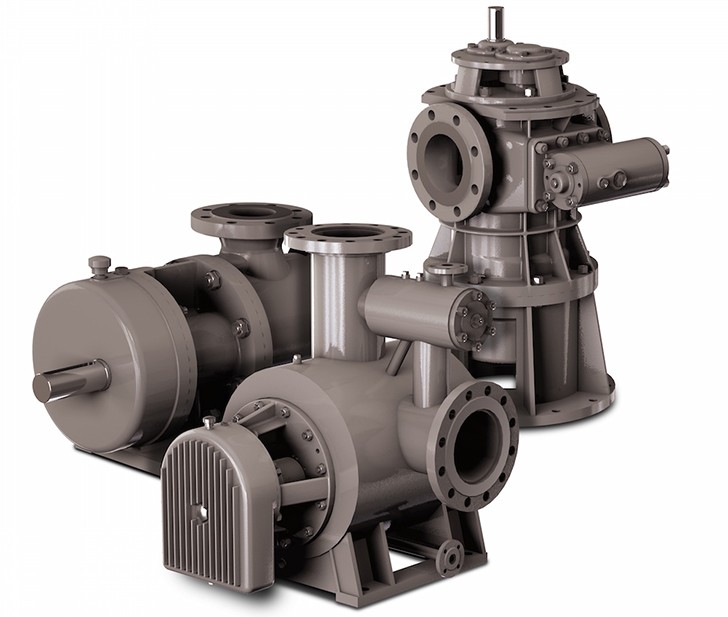 Maag's S Series Twin Screw Pumps (WTG) are double-suction, self-priming twin screw pumps with external bearings and timing gears transmission. They are especially suitable for the delivery of fluids free of solid substances and/or with little abrasiveness.
Maag S Series Twin Screw Pumps with non-timing (NTG) gear transmission feature a single-suction design. The axial pressure on the hydraulic components is compensated by a balance piston. Metal contact exists between the screw profiles and casing bore. The S Series (NTG) Twin Screw Pumps transfer lubricating fluids with higher viscosities, such as bitumen and residual oil, at medium or high temperatures.
Multi-phase Pumps are commonly used in oil fields with untreated streams. In order to satisfy the demands of oil, gas and water containing small particulates, the Multi-phase Pumps adopt a unique screw profile and design, along with a special pump casing chamber, to achieve an increase in mixture and heat distribution. A variety of materials and seals are available to meet challenging operating conditions in the field.
Specs
Key Specifications

| | |
| --- | --- |
| Model: 2HM/2VM | Capacity: 2-2,500 m3/h, Diff . Pressure up to 40 bar |
| Model: 2HR/2VR | Capacity: 2-2,500 m3/h, Diff . Pressure up to 40 bar |
| Model: 2HE/2VE | Capacity: 2-2,500 m3/h, Diff . Pressure up to 25 bar |
| Model: 2HH | Capacity: 10-1,000 m3/h, Diff . Pressure up to 60 bar |
| Model: 2HC | Capacity: 35-750 m3/h, Diff . Pressure up to 16 bar |
| Model: 2H | Capacity: 1-40 m3/h, Diff . Pressure up to 16 bar |