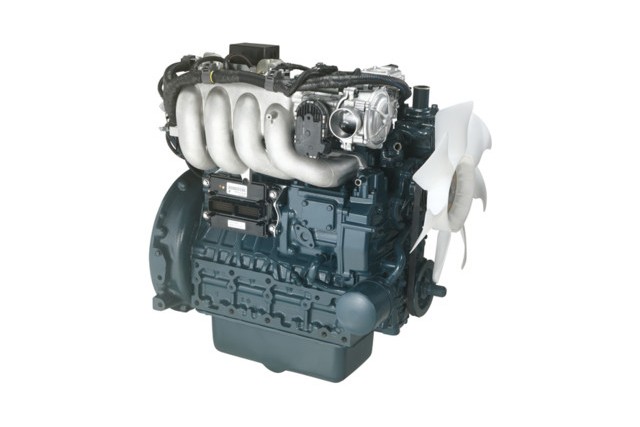 Kubota's WG2503-G/L/N-E3 engines have been designed to comply with the most stringent emission regulations: EPA Tier 2 and CARB Tier 3.
Installation compatibility between SI and CI engines is a good solution for customers who need fuel flexibility for their products. Kubota WG2503 engines have a gasoline version, LPG version, natural gas version and dual fuel (gasoline and LPG) version.
Kubota's WG2503 SI engines are designed after the Kubota 03 Series diesel (CI) engines. They have same footprint as with V2403 diesel and similar performance to turbo diesel, which are known worldwide as reliable industrial engines. The Kubota WG2503 engines offer very low vibration and are exceptionally quiet.
Specs
Key Specifications

| | |
| --- | --- |
| Emission Regulation | EPA Tier 2 / CARB Tier 3 |
| Type | Vertical 4-Cycle Liquid Cooled Gasoline |
| Number of cylinders | 4 |
| Bore | 88 mm (3.46") |
| Stroke | 102.4 mm (4.03 ") |
| Displacement | 2.491 L (152.0 cu.in) |
| Fuel | Gasoline |
| Output: Gross Intermittent | 45.5 kW (61.0 hp) |